Links

A Whole New World Community Links
This page is for links to connect you with people and organizations with similar goals or who in other ways support our purposes. If you are interested in cross-linking, please send us an email with more information and we will be glad to review your site.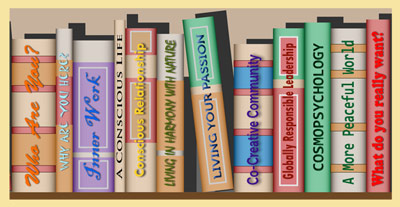 From the Awaken the Whole New Human Series:
TRUE WEALTH: Seeding a resilient new culture together
Rose Diamond, blog, http:magnificentbeing.net/blog
Rose's book: "Living your Passion: How Love-in-action is seeding a Whole New World" published by A Whole New World.
Laurence Boomert
Living Economies, http://www.le.org.nz
"Fleeing Vesuvius, Responding to the effects of economic and environmental collapse" Published by Living Economies, with a chapter by Laurence.

The New Economics Party, http://www.neweconomics.net.nz
The Bank of Real Solutions, grassroots projects from around NZ http://www.realsolutions.org.nz
Give a little, fundraise and donate online http://www.givealittle.co.nz
Inhabitat, Green Design will save the world: inhabitat.com
Seikatsu Club, Consumers Co-operative Union in Japan, http://www.seikatsuclub.coop/english/
Deirdre Kent
Deirdre's book, Healthy Money, Healthy Planet: developing sustainability through new money systems , available from Living Economies (see above)



Only a transformation of consciousness will safeguard life on Earth.
It's time for the most soulful transformation of our individual and community lives we can muster.